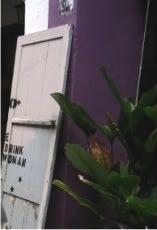 Something Borrowed
an age-old saying that goes something like this


"I don't think she cares," Yoanna says, and it's near the truth. Beth dresses like a boy and speaks with an accent so half the people she's surrounded with are divided by their opinions. Nobody wants to associate with a pretender but Beth acts like anything but.

She likes her hair in a ponytail and the loose ends out. Only Yoanna notices the state of her jeans - "Cheap," she thinks, "too cheap." The material has hardly any texture and Yoanna knows this because she's brushed her hand against it at least once, pretending it was an accident.

Beth frustrates her because there's nothing she can deduce from her appearance apart from the fact that nearly everything of hers was someone else's, first. She wears a pair of sneakers that were once her cousin's and her boots still belong to her mother. "That denim jacket?" Yoanna manages to ask as she passes her in the hall. Beth's answer is, "This old thing?"

And her T-shirts. They reveal no sign of allegiance, it's Arsenal today and Lakers the next. A band - Beatles - every Tuesday. And wrestling once a month. Yoanna thinks she's getting somewhere, until she overhears Beth admitting to a boy in their class that none of her T-shirts are hers; they're all her brother's. She goes back to square one.

Sometimes, Yoanna doesn't think there's anything strange about Beth. She's just a girl who likes dressing like a boy and there's something cool about that.

But she has seen the way Beth looks at the kids who take out a cigarette the moment they hit the bus-stop and how Beth hesitates, seconds before a class presentation. How she bites her lip as if she's dying to give that a go, and how she pinches her cheeks before her turn so that they're just the right shade of red. When Beth presents, there's a natural pink in her face.

It's moments like these that Yoanna can't take her eyes off of her, and privately she wonders if Beth just wants to be like them all.
Current Mood:
sleepy